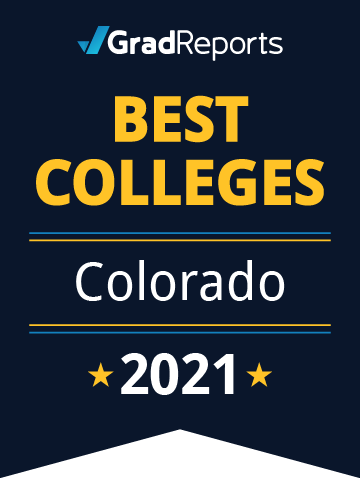 2021 Best Colleges in Colorado by Salary Score
This list features the best schools in Colorado based on a bachelor's degree Salary Score. A higher Salary Score indicates that alumni from that college tend to have higher salaries when compared to alumni with the same major at other schools. To determine this score, we compared alumni earnings in the first year after graduation for each major at a college to alumni earnings for the same major across all schools. The program scores are then combined to create an overall bachelor's degree Salary Score for the college. Colorado School of Mines ranks first in the state with a score of 70.30, which also places it well above the national median of 50.
To be considered for our state rankings, schools must offer and provide data for at least 8 bachelor's programs. This list includes all eligible schools in Colorado. You can click on a school's name to view individual program scores. Read our methodology to learn more about how schools were ranked.
Salary Scores
based on data reported by the U.S. Department of Education
Rank
School

Annual Tuition

Salary Score

#1
Colorado School of Mines

Golden

Golden

$18,964

70.30
#2
University of Colorado Boulder

Boulder

Boulder

$12,532

68.37
#3
Metropolitan State University of Denver

Denver

Denver

$7,666

66.57
#4
Colorado Christian University

Lakewood

Lakewood

$31,866

66.35
#5

(tie)

Colorado State University-Fort Collins

Fort Collins

Fort Collins

$11,707

59.68
#5

(tie)

University of Denver

Denver

Denver

$50,556

59.68
#7
University of Colorado Denver

Denver

Denver

$9,283

59.13
#8
Regis University

Denver

Denver

$36,810

56.32
#9
University of Northern Colorado

Greeley

Greeley

$9,918

50.76
#10
Colorado Mesa University

Grand Junction

Grand Junction

$8,627

44.59
#11
Colorado State University-Pueblo

Pueblo

Pueblo

$10,408

42.90
#12
University of Colorado Colorado Springs

Colorado Springs

Colorado Springs

$8,523

39.82
#13
Western State Colorado University

Gunnison

Gunnison

$10,114

36.84
#14
Adams State University

Alamosa

Alamosa

$9,440

30.54
#15
Fort Lewis College

Durango

Durango

$9,040

21.68