Our Optimal Choice list highlights the best value colleges for students that offer high salaries and low tuition. We researched salary and tuition information for over 1,782 colleges to find the schools that produce alumni who earn high salaries without the high price tag. We determine alumni earnings based on a ranking system that investigates alumni salaries by program, called Salary Score. See our methodology for additional information.
Key Insights
Over 85% of Optimal Choice colleges are public schools.
Of the private non-profit schools on the Optimal Choice list, over 75% are primarily online.
The top-ranked school based on our Salary Score is Thomas Edison State University, a primarily online college that costs less than $8,000 a year, just ahead of UC-Berkeley.
Read our full analysis below.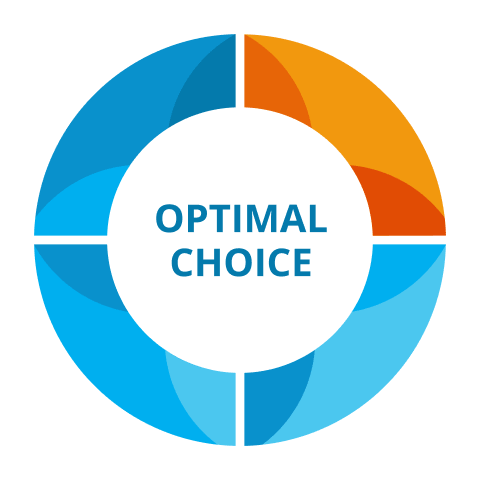 ---
---

Optimal Choice Colleges
111 Colleges that Offer High Alumni Salaries and Low Tuition
Thomas Edison State University
Trenton (NJ)
$7,926
94.20
University of California - Berkeley
Berkeley (CA)
$14,253
93.80
Capella University
Minneapolis (MN)
$14,540
90.97
California Polytechnic State University-San Luis Obispo
San Luis Obispo (CA)
$9,943
90.16
American Public University System
Charles Town (WV)
$7,324
89.54
The College of New Jersey
Ewing (NJ)
$16,923
89.07
Colorado State University Global
Greenwood Village (CO)
$8,400
88.90
California State University - East Bay
Hayward (CA)
$7,000
88.36
National University

Multiple Locations

$13,320
87.96
San Jose State University
San Jose (CA)
$7,852
87.70
Linfield University - Online and Continuing Education
McMinnville (OR)
$13,365
86.63
Georgia Institute of Technology
Atlanta (GA)
$12,682
86.35
University of Maryland - College Park
College Park (MD)
$10,779
86.24
University of Massachusetts Global

Multiple Locations

$12,440
86.04
University of Maryland Global Campus
Adelphi (MD)
$7,560
85.66
The University of Texas at Austin
Austin (TX)
$10,824
83.25
University of Minnesota-Crookston
Crookston (MN)
$12,116
82.95
Western Governors University
Salt Lake City (UT)
$6,670
82.02
University of Michigan - Ann Arbor
Ann Arbor (MI)
$15,558
81.14
University of Virginia
Charlottesville (VA)
$17,798
80.95
Oregon Institute of Technology
Klamath Falls (OR)
$10,485
79.53
Concordia University - Saint Paul
Saint Paul (MN)
$22,800
79.36
University of the District of Columbia
Washington D.C.
$6,020
77.52
Bowie State University
Bowie (MD)
$8,444
77.49
The University of Texas Permian Basin
Odessa (TX)
$6,666
76.33
Sonoma State University
Rohnert Park (CA)
$7,880
75.93
University of Massachusetts - Boston
Boston (MA)
$14,613
75.43
University of Washington - Seattle
Seattle (WA)
$11,465
75.43
University of Illinois Urbana - Champaign
Champaign (IL)
$15,122
75.30
San Francisco State University
San Francisco (CA)
$7,266
75.27
Metropolitan State University
Saint Paul (MN)
$8,114
75.24
University of Massachusetts - Amherst
Amherst (MA)
$16,389
75.17
SUNY Empire State University
Saratoga Springs (NY)
$7,605
74.70
Southern New Hampshire University Online
Manchester (NH)
$9,600
74.67
University of Wisconsin - Madison
Madison (WI)
$10,725
74.67
University of New Hampshire - Main Campus
Durham (NH)
$18,879
74.57
Touro College
New York (NY)
$20,550
74.38
Texas Tech University
Lubbock (TX)
$9,300
74.18
University of Delaware
Newark (DE)
$14,280
74.18
Purdue University - Main Campus
West Lafayette (IN)
$9,992
73.92
Worcester State University
Worcester (MA)
$10,161
73.47
Bellevue University
Bellevue (NE)
$7,851
73.24
George Mason University
Fairfax (VA)
$12,564
73.20
James Madison University
Harrisonburg (VA)
$12,206
73.07
Texas A&M University - College Station
College Station (TX)
$12,153
72.97
Indiana University - Bloomington
Bloomington (IN)
$10,947
72.94
University of Minnesota
Minneapolis (MN)
$15,027
72.17
University of Houston - Clear Lake
Houston (TX)
$7,310
71.77
Virginia Polytechnic Institute and State University
Blacksburg (VA)
$13,691
71.53
University of Alaska Anchorage
Anchorage (AK)
$8,103
71.06
Michigan State University
East Lansing (MI)
$14,460
70.95
Towson University
Towson (MD)
$10,198
70.92
Minnesota State University at Mankato
Mankato (MN)
$8,438
70.85
West Chester University of Pennsylvania
West Chester (PA)
$10,421
70.85
Longwood University
Farmville (VA)
$13,520
70.61
Colorado School of Mines
Golden (CO)
$19,062
70.30
Michigan Technological University
Houghton (MI)
$15,960
69.78
University of New Hampshire College of Professional Studies
Concord (NH)
$7,791
69.39
Miami University - Oxford
Oxford (OH)
$15,911
69.32
Iowa State University
Ames (IA)
$9,320
68.79
Arizona State University
Tempe (AZ)

(and 4 others)

$10,698
68.62
University of Massachusetts - Lowell
Lowell (MA)
$15,648
68.62
University of Colorado Boulder
Boulder (CO)
$12,500
68.37
University of Connecticut
Storrs (CT)
$17,226
68.37
University of Michigan - Dearborn
Dearborn (MI)
$13,304
68.37
Washington State University
Pullman (WA)
$11,841
68.12
California State University - Sacramento
Sacramento (CA)
$7,368
68.08
Illinois State University
Normal (IL)
$14,832
67.47
Utah Valley University
Orem (UT)
$5,820
67.40
Winona State University
Winona (MN)
$9,666
67.15
Rutgers University
New Brunswick (NJ)
$15,407
67.00
Saint Cloud State University
St. Cloud (MN)
$8,656
66.97
University of Houston - Downtown
Houston (TX)
$6,788
66.75
Metropolitan State University of Denver
Denver (CO)
$8,151
66.57
University of Utah
Salt Lake City (UT)
$8,615
66.57
Pennsylvania State University
State College (PA)
$18,450
66.49
CUNY John Jay College of Criminal Justice
New York (NY)
$7,470
66.31
Ramapo College of New Jersey
Mahwah (NJ)
$14,678
65.91
Wilmington University
New Castle (DE)
$11,480
65.80
Citadel Military College of South Carolina
Charleston (SC)
$12,620
65.17
Salem State University
Salem (MA)
$11,128
64.88
The University of Texas at Arlington
Arlington (TX)
$11,040
64.84
CUNY York College
Jamaica (NY)
$7,358
64.62
University of Wisconsin - River Falls
River Falls (WI)
$8,037
64.51
University of Wisconsin-La Crosse
La Crosse (WI)
$9,127
64.51
University of California-Santa Barbara
Santa Barbara (CA)
$14,391
64.17
Park University
Parkville (MO)
$11,190
64.06
Central Washington University
Ellensburg (WA)
$8,273
63.98
Kansas State University
Manhattan (KS)
$10,440
63.87
CUNY Lehman College
Bronx (NY)
$7,410
63.53
University of Phoenix
Nationwide
$9,552
63.38
University of Wisconsin - Stout
Menomonie (WI)
$9,463
63.34
University of Wisconsin - Eau Claire
Eau Claire (WI)
$8,840
63.31
University of North Dakota
Grand Forks (ND)
$9,736
63.27
University of Wisconsin - Whitewater
Whitewater (WI)
$7,695
63.12
California State University - San Marcos
San Marcos (CA)
$7,717
63.01
Lamar University