Considering Going Back to College? The Data Suggests It's Worth It
We tend to think of the typical college student as young and ambitious. They've worked hard in their senior year of high school and gotten into their top-choice university. After four years of study, they'll officially enter adulthood with a great career.
For many, however, earning a degree takes longer than four years, and 40 percent of students drop out before graduating with their bachelor's degree. Financial difficulties, including tuition and living expenses in college, are the most common reasons for leaving college early. Balancing work and school, dealing with medical problems, and struggling academically can also be contributing factors. That leaves a large group of students who find themselves considering going back to college later on.
Whether you're thinking about re-enrolling to finish your degree or looking at colleges for the first time, if you are over 25 years old and considering higher education, you're in good company. The National Center for Education Statistics estimates that 7.4 million students attending colleges and universities in the fall of 2019 were 25 or older. Nearly one in four college students have children, and 64% work while pursuing their degree, the Lumina Foundation reports.


Given the financial and career benefits of a college diploma, it's no wonder many former students consider going back. Nevertheless, there are some barriers to returning to college. High tuition costs and difficulties balancing work and school continue to be issues for students of all ages. A national study conducted by Ohio State University found 70% of college students felt financially stressed, and reports suggest this hasn't changed. Adult students with families to support might find themselves among this number, and may also struggle to achieve a good work-life balance on top of their studies.
Despite its challenges, the data suggests returning to college as an adult is worth it.
Going back to college will help you find and keep a job
The likelihood of employment overall is higher for people with college degrees than for those without. As levels of education for young adults rise, unemployment rates fall; even having some college experience but no bachelor's degree qualifies you for more jobs.
It's also no secret that college graduates earn more, on average. Both men and women with bachelor's degrees earn 39% more than those with a high school education.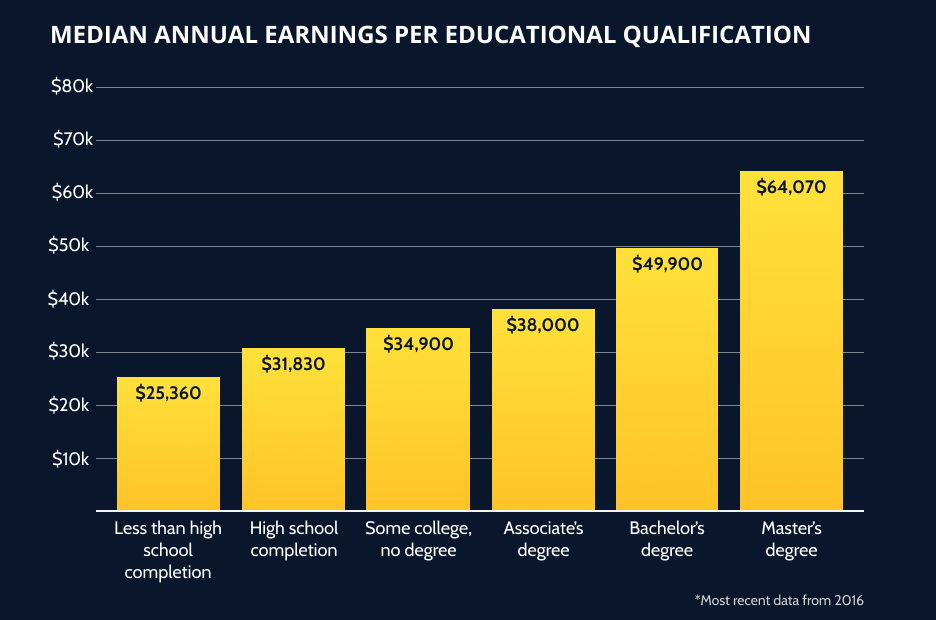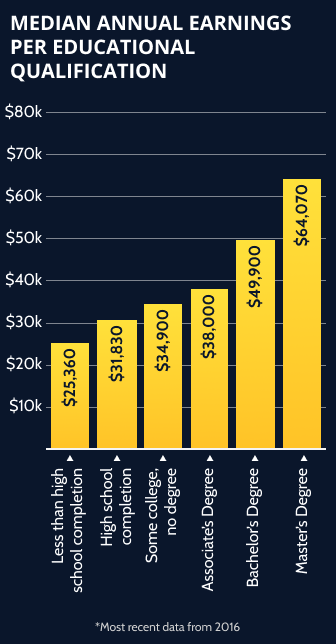 Returning students will likely see their employment prospects improve, although it may vary depending on the credentials they seek. Some go back to pursue profession-specific training or upgrade existing qualifications to make a leap in their careers. Others want to earn a new degree or finish one they started previously.
Many senior positions, such as safety inspector, CEO, or nurse practitioner, actively require all of their candidates to possess college-level qualifications in order to be considered. According to the Georgetown University Center on Education and the Workforce, two-thirds of jobs will require more education than a high school diploma through 2020, and that number is predicted to reach 70% over the next seven years.
STEM jobs, positions in health care, and community service roles are among the fastest-growing professions, many of which require high levels of higher education. For instance, information security analysts (32% growth rate) require a bachelor's degree, while mathematicians (30% growth rate) require a master's degree.
The benefit of going back to college is more pronounced for some programs than others. In many fields, pursuing a career-specific track can help people make faster professional advancements. Medical administrative assistants, software developers, and information security analysts are among the positions that can make quick career leaps through targeted college classes (including those offered by technical and community colleges).
Professional development courses, which do not require four years of commitment, are offered by a number of colleges and official organizations and can be taken online. Highly career-focused programs, including those focused on project management, leadership, data science, and marketing, can help people gain the practical skills they need to advance in their field.
Returning students may pay less for college than first-time students
College is expensive for traditional students. While going back to college could still cost you a significant amount of money if you're a returning student, it may be less than for first-time students.
Adult and returning students may have the support of their employers, which can make going back to college more affordable and more practical. Many employers recognize the benefits of investing in their employees' skills. Some may even be willing to give you added support to pursue your new qualification: 56% of companies now provide tuition benefits to employees earning new credentials.
The price of pursuing an education depends on whether you're considering online or on-campus study. The average total cost of online courses, favored by many older students due to the flexibility, is $30,000, versus $85,000 for in-person courses.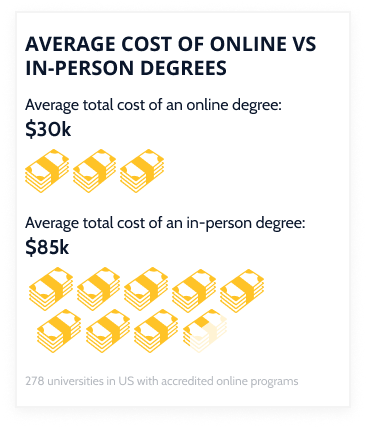 In addition, returning students are more likely to know what program they're interested in and are therefore less likely to pay for courses that won't count toward a degree. They may also have career experience or credits to transfer from earlier studies, which can make a college return less expensive. We'll cover that in more detail shortly.
Financial aid can also help cover the costs. Students 24-29 years old tend to receive more federal grants and loans than students just out of high school. Older students are more likely to qualify as independent students when filling out the FAFSA, which may make them eligible for more funding.
Students of any age are eligible to apply for federal student aid through FAFSA and other grant programs.
Prospective older students can also investigate a number of state-specific financial aid programs to receive additional funding.
Turn career and military experience into college credits
If you have existing college credits, many colleges will allow you to transfer them, depending on what classes you took, what school you attended, and how long ago you earned them. If your credits aren't transferable, you still may be able to test out of required courses. You can also turn career experience into credits through the College-Level Examination Program (CLEP). Many adult students have gained specialized skills through work experience. This knowledge can be converted into college credits to help you complete your new qualification faster.
Those who've served in the military may also have American Council on Education (ACE) credits they can make use of to complete their college degree faster, with their own form of CLEP. Various forms of military training — including boot camp and basic training — can be exchanged for elective college credits. Transferring your military training into nonmilitary educational credits can be done via the Joint Services Transcript.
Achieving a work/school/life balance is difficult, but not impossible
Many returning students are eager to enroll in school but require a flexibility that on-campus learning can't provide. Universities are often able to accommodate students who have other life commitments through online courses.
Forty percent of students pursue their studies on a part-time basis. More than half of students work while in college, and nearly one in four students are raising families while dealing with their college studies. This shows that going back to college is still possible even when there are other important responsibilities in one's life.
Balancing work and life with college courses is made easier by online and distance education. In 2018, 35.3% of college students were estimated to take advantage of distance education opportunities. As of July 2020, there were 278 universities in the United States with accredited online programs. More and more universities worldwide are offering online exams or even online proctor schemes to make remote exam completion more workable. Accelerated and condensed courses, in which you take more classes per semester and additional summer classes, are also an option.
Many prospective students are eager to enroll in school but require a flexibility that on-campus learning can't provide. Universities are often willing to accommodate returning students who have other life commitments, primarily through online courses.
A number of universities, like the University of Phoenix and Regis University, cater primarily to adult students. They offer many online courses, assistance arranging financial aid, and career services tailored to older students.
Advancements in education technology have helped to further improve online programs: Colleges now use content management system and learning management system technologies, as well as a variety of cloud solutions and new media solutions like Zoom to improve the educational experience for students studying remotely.
Several universities also offer rolling enrollment windows, freeing potential students from having to wait until a fall/spring window rolls around. Bear in mind that enrolling outside of the traditional windows can potentially cause funding issues, because grants are usually released in alignment with fall start dates.
Go back to college to get ahead
There's no denying that returning to college as an older student comes with demands and potential complications; however, the benefits of doing so are equally undeniable. People who return to college — either to embark upon an entirely new degree, finish an old one, or improve their professional skills — earn more and can progress further and faster than peers who don't return.
What's more, a great many colleges are well aware of the value that older and returning students can provide and are willing to accommodate them. In life, we're often told not to look back. To keep pressing ahead. Going back to college is not a sign of regression, but of evolution.