This System Was Not Built for Me: How a Student-Centered Approach Can Keep Young People From Slipping Through the Cracks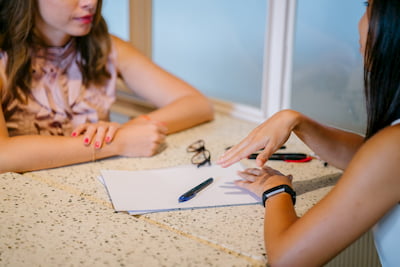 Growing up in Ferndale, Washington, a predominantly white rural town, I never had a teacher who looked like me. It was hard to find meaningful relationships with educators I couldn't relate to.
Under-represented students are often taught that they aren't expected to go to college — many are directed towards entry-level jobs instead of SAT prep classes, or targeted by military recruiters instead of college representatives. When I began thinking about college applications, I had a teacher who told me there was no way I would graduate high school, let alone earn a degree. It wasn't until I got to college that it became very clear why they said this.
The U.S. education system is not geared for students like me — first generation, low income, underrepresented, and continually facing barriers. Having to figure out how to pay for college, access student resources, and map out a path to a meaningful career without support left me with no option but to become an advocate for myself. I had to work extremely hard to overcome the roadblocks I faced, and I knew I wasn't the only one exhausted from feeling left behind or looked over in education.
Overcoming these barriers made me realize I wanted to work with other young people experiencing the same challenges. Shortly after graduating with my bachelor's degree, I found an opportunity to do the educational advocacy work I was looking for with Northwest Education Access (NWEA).
NWEA has a unique model that follows young people throughout their educational journey and teaches students how to advocate for themselves. As an advocate, I provide one-on-one support for students experiencing a huge range of barriers to education, dealing with institutional racism, and surviving historical and generational trauma.
As someone who has dealt with similar challenges, I recognize that navigating higher education systems can be exhausting. I know firsthand how difficult it is to advocate for yourself. Today, I have the opportunity to support young people as they plan for their futures, but more importantly, I can be someone who shows up and listens to them.
According to research from the Search Institute, young people do their best when they experience strong, positive relationships in all parts of their lives. These relationships have a huge impact on student success. Our focus is to provide students with the support they need to graduate high school and prepare them for higher education and fulfilling careers. We do this by cultivating meaningful relationships with students that emphasize trust, accountability, and follow-through.
The young people we serve are often low-income and navigate complex education barriers. They may struggle to find safe housing, affordable childcare, or mental health services. These barriers have ongoing consequences for the people who experience them and can make education seem out of reach if not impossible.
Having someone who helps advocate for them each step of the way works to lessen the impact these barriers have. By building these relationships, our students know they have someone who will be there for them as they navigate these systems. Trust and rapport are key components in creating strong relationships with students, and educators can use the specific steps I take to connect with students in every school.
I begin by identifying a path forward and helping students create a small goal we can work on together. I am currently working with a student who I'll call Hector. When he initially came to us, he was interested in an apprenticeship program.
We started by talking through all the steps of the enrollment process. I suggested Hector check out an info session, emphasizing that he won't be alone and offering to attend it with him if need be. For many students, reaching out for support is difficult, especially when educators have let them down in the past. Letting Hector know he won't be alone allows us to create a stronger bond and helps him open up about any challenges he foresees himself facing.
After the info session, we met to discuss the next steps in enrollment and went through the application process together. Helping Hector set small goals and following up with him shows that I care about him, and I am holding myself accountable for building that relationship — something that many students haven't seen in their lives.
Since then, Hector has made it through the apprenticeship program and is now continuing his education with me by his side every step of the way. Our students often don't have strong support systems or people in their lives who have made it through post-secondary pathways. Building these relationships helps them feel like they have a safety net, someone who understands what they're going through and knows how to help them. It also allows students to see that they are empowered in their educational journey.
Hector's story embodies the story of every student who comes to us for support and shows how continually showing up and following through can make a difference in young people's lives. As staff in schools, it's our responsibility to listen and create these relationships with our students who have dreams but have yet to be asked about them.
My experience in the U.S education system made me feel like I could have slipped through the cracks, but it also showed me the importance of advocacy and challenging the norms within established institutions. By listening and showing accountability for building these relationships, we as educators can become more student-centered and create a system that supports everyone.