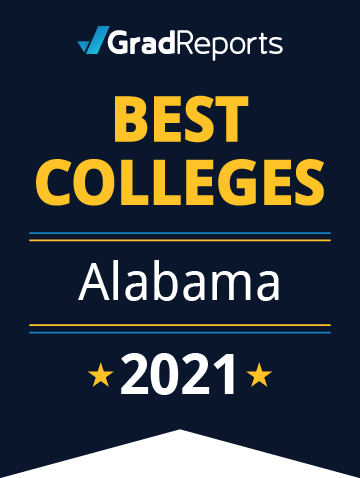 2021 Best Colleges in Alabama by Salary Score
Our list features the best colleges in Alabama, ranked by Salary Score. To determine this score, we compared alumni earnings in the first year after graduation for each major at one college to alumni earnings for the same major across all schools. The scores from all majors were then combined to create a bachelor's degree Salary Score for the college. A high Salary Score indicates that alumni from that college tend to have higher salaries when compared to alumni with the same majors at other schools. Alumni from Alabama colleges may expect lower salaries because of the state's lower cost of living compared to the U.S. average. Even so, the first two schools on this list scored above the U.S. Salary Score median: Auburn University and the University of Alabama.
To be considered for our state rankings, schools must offer and provide data for at least 8 bachelor's programs. This list includes all eligible schools in Alabama. You can click on a school's name to view individual program scores. Read our methodology to learn more about how schools were ranked.
Salary Scores
based on data reported by the U.S. Department of Education
Rank
School

Annual Tuition

Salary Score

#1
Auburn University

Auburn

Auburn

$11,276

61.98
#2
University of Alabama

Tuscaloosa

Tuscaloosa

$10,780

54.42
#3
Troy University

Troy

Troy

$8,908

38.17
#4
Athens State University

Athens

Athens

$7,968

37.64
#5
Samford University

Birmingham

Birmingham

$31,650

36.24
#6
Jacksonville State University

Jacksonville

Jacksonville

$8,760

31.70
#7
University of Alabama at Birmingham

Birmingham

Birmingham

$8,568

30.15
#8
University of Alabama in Huntsville

Huntsville

Huntsville

$10,714

27.49
#9
University of South Alabama

Mobile

Mobile

$8,396

26.17
#10
University of Mobile

Mobile

Mobile

$23,230

25.75
#11
University of Montevallo

Montevallo

Montevallo

$12,760

24.92
#12
University of North Alabama

Florence

Florence

$10,142

23.67
#13
University of West Alabama

Livingston

Livingston

$10,040

22.96
#14
Tuskegee University

Tuskegee

Tuskegee

$22,170

22.84
#15
Alabama A & M University

Normal

Normal

$9,744

16.11
#16
Auburn University at Montgomery

Montgomery

Montgomery

$8,404

15.72
#17
Alabama State University

Montgomery

Montgomery

$11,068

15.17