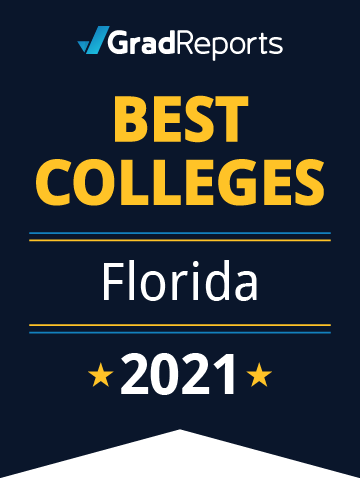 2021 Best Colleges in Florida by Salary Score
These are the top 25 colleges in Florida ranked by Salary Score. We calculated this score by comparing the median alumni earnings in the first year after graduation for a specific bachelor's degree field at a college to the same data point at all other colleges. We repeated this process for each program at the school to determine an overall score. This overall Salary Score paints a picture of how well a school performs across its offered majors. The top six colleges on this list score above the nationwide median. Embry-Riddle Aeronautical University - Dayton takes the lead spot with a Salary Score of 82.1.
To be considered for our state rankings, schools must offer and provide data for at least 8 bachelor's programs. You can click on a school's name to view individual program scores. Read our methodology to learn about how schools were ranked.
Salary Scores
based on data reported by the U.S. Department of Education
Rank
School

Annual Tuition

Salary Score

#1
Embry-Riddle Aeronautical University-Daytona Beach

Daytona Beach

Daytona Beach

$36,868

82.10
#2
Hodges University

Naples

Naples

$14,300

65.06
#3
Lynn University

Boca Raton

Boca Raton

$38,930

61.18
#4

(tie)

Barry University

Miami Shores

Miami Shores

$30,014

54.10
#4

(tie)

St. Petersburg College

Clearwater

Clearwater

$2,682

54.10
#6
University of Florida

Gainesville

Gainesville

$6,381

51.32
#7
Florida Gulf Coast University

Fort Myers

Fort Myers

$6,118

49.36
#8

(tie)

Miami Dade College Miami

(and 1 other)

Miami

(and 1 other)

$2,838

49.24
#8

(tie)

Rollins College

Winter Park

Winter Park

$51,700

49.24
#10
Keiser University Daytona Beach

(and 15 others)

Daytona Beach

(and 15 others)

$21,008

49.08
#11
Jacksonville University

Jacksonville

Jacksonville

$38,140

48.76
#12
Florida State University

Tallahassee

Tallahassee

$5,656

48.68
#13
University of Miami

Coral Gables

Coral Gables

$51,930

47.41
#14
The University of Tampa

Tampa

Tampa

$29,992

46.45
#15
Florida State College at Jacksonville

Jacksonville

Jacksonville

$2,878

44.39
#16
Florida Atlantic University

Boca Raton

Boca Raton

$4,879

43.29
#17
University of North Florida

Jacksonville

Jacksonville

$6,389

42.70
#18
Florida International University

Miami

Miami

$6,565

40.52
#19
Florida Southern College

Lakeland

Lakeland

$37,640

40.44
#20
Nova Southeastern University

Fort Lauderdale

Fort Lauderdale

$32,110

39.32
#21
University of South Florida Online

Tampa

Tampa

$6,410

38.55
#22
University of Central Florida Orlando

(and 7 others)

Orlando

(and 7 others)

$6,368

37.87
#23
Florida Institute of Technology

Melbourne

Melbourne

$42,470

32.02
#24
Palm Beach Atlantic University West Palm Beach

(and 1 other)

West Palm Beach

(and 1 other)

$32,500

31.74
#25
Indian River State College Fort Pierce

(and 4 others)

Fort Pierce

(and 4 others)

$2,764

31.14