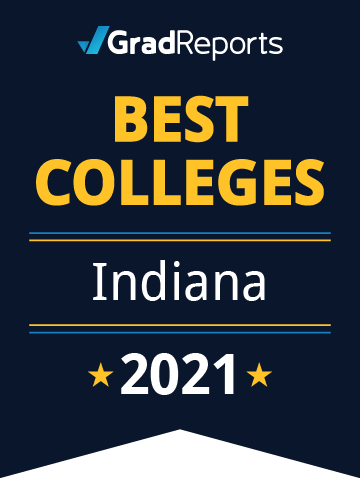 2021 Best Colleges in Indiana by Salary Score
These are the top 25 colleges in Indiana ranked by bachelor's degree Salary Score. We calculated these scores by comparing median alumni earnings in the first year after graduation for majors at one college to earnings for graduates with that same major across all colleges. These program scores were then combined to determine an overall score. The overall Salary Score offers a gauge of how alumni salaries stack up between different institutions. Each of Indiana's top 10 colleges has a Salary Score above the nationwide median of 50, and the top-ranked University of Notre Dame earned the #21 spot in our 2021 list of best U.S. colleges by Salary Score. In-state alumni may also expect a relatively low cost of living because Indiana has the 10th lowest cost of living of 52 states and territories in the nation.
To be considered for our state rankings, schools must offer and provide data for at least 8 bachelor's programs. You can click on a school's name to view individual program scores. Read our methodology to learn more about how schools were ranked.
Salary Scores
based on data reported by the U.S. Department of Education
Rank
School

Annual Tuition

Salary Score

#1
University of Notre Dame

Notre Dame

Notre Dame

$55,553

94.03
#2
Rose-Hulman Institute of Technology

Terre Haute

Terre Haute

$51,927

82.43
#3
DePauw University

Greencastle

Greencastle

$51,146

74.79
#4
Purdue University - Main Campus

West Lafayette

West Lafayette

$9,992

73.92
#5
Indiana University - Bloomington

Bloomington

Bloomington

$10,947

72.94
#6
Taylor University

Upland

Upland

$35,305

64.28
#7
Trine University

Angola

Angola

$32,810

55.76
#8
Ball State University

Muncie

Muncie

$10,020

53.94
#9
Indiana University - Purdue University Indianapolis

Indianapolis

Indianapolis

$9,701

53.82
#10
Saint Mary's College - IN

Notre Dame

Notre Dame

$43,900

51.00
#11
University of Indianapolis

Indianapolis

Indianapolis

$30,976

49.76
#12
Manchester University

North Manchester

North Manchester

$33,624

48.09
#13
Valparaiso University

Valparaiso

Valparaiso

$41,820

48.09
#14
Purdue University Northwest

Hammond

Hammond

$7,812

43.92
#15
Hanover College

Hanover

Hanover

$38,750

43.09
#16
Indiana University - East

Richmond

Richmond

$7,527

42.23
#17
Indiana State University

Terre Haute

Terre Haute

$9,236

41.57
#18
Indiana University-Southeast

New Albany

New Albany

$7,527

39.20
#19
Indiana University - Northwest

Gary

Gary

$7,527

38.48
#20
University of Evansville

Evansville

Evansville

$37,466

37.60
#21
University of Southern Indiana

Evansville

Evansville

$8,546

37.49
#22
Indiana University-South Bend

South Bend

South Bend

$7,527

36.77
#23
Purdue University Fort Wayne

Fort Wayne

Fort Wayne

$8,589

35.94
#24
Anderson University - IN

Anderson

Anderson

$31,230

35.49
#25
Bethel University - IN

Mishawaka

Mishawaka

$29,170

35.35