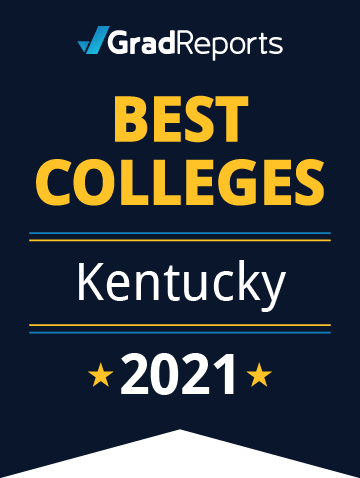 2021 Best Colleges in Kentucky by Salary Score
This list of the best Kentucky universities ranked by Salary Scores offers students a look at how each school stacks up against all other U.S. colleges in terms of alumni salary by major for a bachelor's degree. The Salary Score acts as an indicator of how well alumni at a specific college fare in their first year after graduation compared to others from the same field of study. We developed these scores by comparing median alumni earnings for graduates from a certain major at a college to alumni salaries from the same programs at other universities. We then compiled these program scores into an overall Salary Score to show how well a given college prepares alumni for high-paying jobs, regardless of what they study. Kentucky has a lower than average cost of living, so alumni who work in-state may have lower salaries in line with lower living expenses. Even with a lower cost of living, Thomas More University had a higher Salary Score than the median for colleges in the United States.
To be considered for our state rankings, schools must offer and provide data for at least 8 bachelor's programs. This list includes all eligible schools in Kentucky. You can click on a school's name to view individual program scores. Read our methodology to learn more about how schools were ranked.
Salary Scores
based on data reported by the U.S. Department of Education
Rank
School

Annual Tuition

Salary Score

#1
Thomas More University

Multiple Locations

Multiple Locations

$32,090

69.46
#2
Sullivan University

Louisville

Louisville

$11,520

49.68
#3
University of Louisville

Louisville

Louisville

$11,928

48.52
#4
Northern Kentucky University

Highland Heights

Highland Heights

$10,296

44.67
#5
University of Kentucky

Lexington

Lexington

$12,360

33.47
#6
Bellarmine University

Louisville

Louisville

$42,830

32.92
#7
Asbury University

Wilmore

Wilmore

$30,952

26.89
#8
Eastern Kentucky University

Richmond

Richmond

$9,876

26.37
#9
Western Kentucky University

Bowling Green

Bowling Green

$10,802

24.76
#10
University of the Cumberlands

Williamsburg

Williamsburg

$9,875

22.69
#11
Murray State University

Murray

Murray

$9,168

22.39
#12
Morehead State University

Morehead

Morehead

$9,290

20.30
#13
Kentucky State University

Frankfort

Frankfort

$8,090

13.65
#14
Berea College

Berea

Berea

$44,700

13.61
#15
Lindsey Wilson College

Columbia

Columbia

$25,350

12.08
2021 Best Colleges in Kentucky Highlights
#1

Five of the nine bachelor's programs at Thomas More University have a Salary Score above 80, with the liberal arts and sciences, general studies, and humanities program topping the list with a score of 97. Of the five top-rated fields, graduates of the business administration, management, and operations program report the highest median salary, at $52,610. With a score of 90, the health and physical education/fitness program features the second highest Salary Score. Alumni from this program report median earnings of $36,400 in their first year out of college.
School Overview
Thomas More University is a small, private Catholic institution in Crestview Hills, a small town just south of the Ohio border. It has a student-to-faculty ratio of 15:1 and offers online and on-campus programs. Students at Thomas More have access to various scholarships and all incoming students attending full-time, campus-based programs receive financial aid from the university. Students can take part in optional faculty-led study abroad and service-learning opportunities.
#2

The bachelor's program with the highest Salary Score at Sullivan University is business administration, management and operations, scoring a 71. Graduates of this program report a median salary of $47,900 in their first year out of college. With a score of 65, the business/commerce program has the second highest Salary Score. The median annual salary for this program is $48,040. The program with the overall highest median salary after graduation is computer and information sciences, at $53,780.
School Overview
Sullivan University is a small, private, for-profit institution with four campuses. The main campus is in Louisville, and additional centers are located in Lexington, Fort Knox, and Louisa. Programs at Sullivan University are focused on training students in the skills they need to start careers in the areas of health, business, hospitality, technology, and law. The Ft. Knox campus provides a special focus on educating active duty military, veterans, and their families stationed in the area. Sullivan also provides dedicated resources to military students, including a reduced tuition rate and an on-campus military liaison.
#3

The program with the highest Salary Score at the University of Louisville is teacher education and professional development, specific subject areas, which scores a 97. Graduates of this program report a median salary of $46,870 in the year after graduation. Anthropology is the second-highest rated program, with a score of 85. It has a median annual salary of $31,850. The program with the highest overall median salary is chemical engineering, at $71,580.
School Overview
The University of Louisville is a large, public university located in Louisville, Kentucky. The student-to-faculty ratio is 14:1, and the school offers both online and on-campus programs. A wide variety of scholarships are available in multiple categories based on financial need, academic merit, or athletic performance. Students at the university can choose from an array of study abroad programs, and there are also scholarships available specifically for students who wish to study abroad.