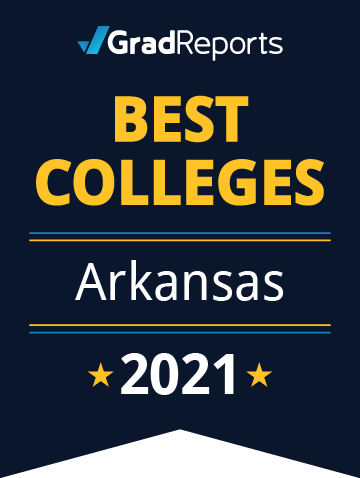 2021 Best Colleges in Arkansas by Salary Score
The following list features the best schools in Arkansas based on Salary Score. This score indicates whether alumni from one school tend to have higher salaries than alumni with the same major at other schools. We calculated this score for each school by comparing the median alumni salary for each program at that school to the median alumni salary for the same program at other schools. Arkansas has a relatively low cost of living, so graduates of in-state schools may earn less because of lower living expenses. Even so, the top two schools on this list — John Brown University and the University of Arkansas — score above the median U.S. Salary Score at 65.17 and 56.63, respectively.
To be considered for our state rankings, schools must offer and provide data for at least 8 bachelor's programs. This list includes all eligible schools in Arkansas. You can click on a school's name to view individual program scores. Read our methodology to learn more about how schools were ranked.
Salary Scores
based on data reported by the U.S. Department of Education
Rank
School

Annual Tuition

Salary Score

#1
John Brown University

Siloam Springs

Siloam Springs

$26,928

65.17
#2
University of Arkansas

Fayetteville

Fayetteville

$9,130

56.63
#3
Harding University

Searcy

Searcy

$19,845

37.45
#4
University of Arkansas at Little Rock

Little Rock

Little Rock

$9,544

32.20
#5
Ouachita Baptist University

Arkadelphia

Arkadelphia

$26,790

30.50
#6
University of Arkansas-Fort Smith

Fort Smith

Fort Smith

$5,593

30.29
#7
University of Central Arkansas

Conway

Conway

$8,752

27.96
#8
Henderson State University

Arkadelphia

Arkadelphia

$8,530

23.55
#9
Arkansas State University

Jonesboro

Jonesboro

$8,607

23.24
#10
Southern Arkansas University

Magnolia

Magnolia

$8,786

21.16
#11
University of Arkansas at Pine Bluff

Pine Bluff

Pine Bluff

$8,038

20.93
#12
Arkansas Tech University

Russellville

Russellville

$7,254

20.07
#13
University of Arkansas at Monticello Monticello

(and 1 other)

Monticello

(and 1 other)

$7,462

19.82