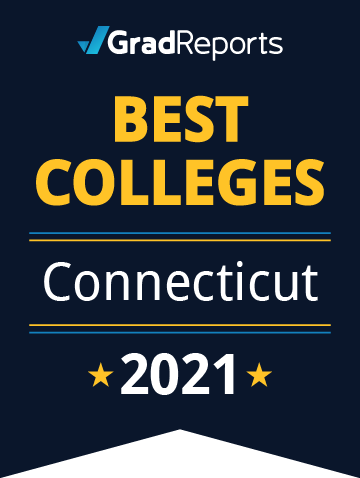 2021 Best Colleges in Connecticut by Salary Score
We ranked the best colleges in Connecticut by Salary Score to help students compare schools based on alumni salary. This score was calculated by comparing the median alumni earnings in the year after graduation for each bachelor's degree major at a college to the alumni earnings for the same major at other schools. A higher score indicates that as a whole, the degrees offered by the college tend to earn an alumnus a higher salary than the same degrees at other colleges. Most of the schools on this list feature Salary Scores higher than the U.S. median of 50, with top-ranked Yale University scoring a 98.9. Both Yale and Trinity College also earn spots on our 2021 list of best colleges in the country.
To be considered for our state rankings, schools must offer and provide data for at least 8 bachelor's programs. You can click on a school's name to view individual program scores. Read our methodology to learn more about how schools were ranked.
Salary Scores
based on data reported by the U.S. Department of Education
Rank
School

Annual Tuition

Salary Score

#1
Yale University

New Haven

New Haven

$53,430

98.90
#2
Trinity College

Hartford

Hartford

$56,910

94.71
#3
Fairfield University

Fairfield

Fairfield

$48,350

85.77
#4
Connecticut College

New London

New London

$54,820

80.59
#5
Quinnipiac University

Hamden

Hamden

$47,960

71.94
#6
University of Connecticut

Storrs

Storrs

$15,730

68.37
#7
Central Connecticut State University

New Britain

New Britain

$10,616

61.22
#8
University of Bridgeport

Bridgeport

Bridgeport

$33,055

59.75
#9
Sacred Heart University

Fairfield

Fairfield

$41,420

56.87
#10
Western Connecticut State University

Danbury

Danbury

$10,859

54.18
#11
Albertus Magnus College

New Haven

New Haven

$32,060

53.31
#12
Eastern Connecticut State University

Willimantic

Willimantic

$11,356

51.64
#13
University of New Haven

West Haven

West Haven

$39,270

50.36
#14
Southern Connecticut State University

New Haven

New Haven

$10,954

49.92
#15
University of Hartford

West Hartford

West Hartford

$40,694

44.31