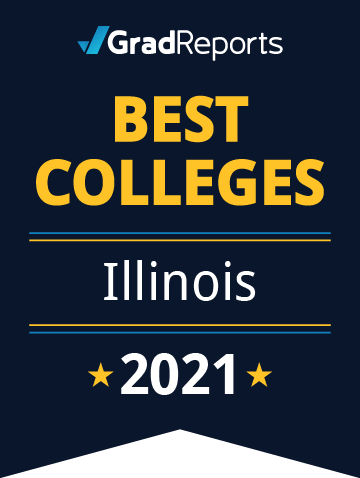 2021 Best Colleges in Illinois by Salary Score
We calculated a Salary Score for each college in Illinois to determine the colleges with the best salary outcomes for alumni in the first year after graduation. We compared median alumni earnings for graduates from a specific major at a college to data for the same major at other universities. We combined these program scores into an overall Salary Score to compare how each university stacks up against schools across the country. The top 25 colleges in Illinois all feature Salary Scores above the nationwide median, and two schools also rank in our 2021 list of the 50 best colleges in the U.S.: Northwestern at #24 and the University of Chicago at #32. The majority of the top schools in Illinois are located in the Chicago area.
To be considered for our state rankings, schools must offer and provide data for at least 8 bachelor's programs. You can click on a school's name to view individual program scores. Read our methodology to learn more about how schools were ranked.
Salary Scores
based on data reported by the U.S. Department of Education
Rank
School

Annual Tuition

Salary Score

#1
Northwestern University

Evanston

Evanston

$56,691

93.57
#2
University of Chicago

Chicago

Chicago

$60,552

91.77
#3
University of Illinois Urbana - Champaign

Champaign

Champaign

$15,122

75.30
#4
Concordia University - Chicago

River Forest

River Forest

$32,880

73.04
#5
DePaul University

Chicago

Chicago

$41,202

72.91
#6
Lewis University

Romeoville

Romeoville

$33,430

67.98
#7
Illinois State University

Normal

Normal

$14,832

67.47
#8
Illinois Wesleyan University

Bloomington

Bloomington

$50,028

67.26
#9
North Central College

Naperville

Naperville

$40,040

66.82
#10
Lake Forest College

Lake Forest

Lake Forest

$48,424

64.32
#11
University of St. Francis

Joliet

Joliet

$34,000

63.91
#12
Loyola University Chicago

Chicago

Chicago

$45,543

63.46
#13
Elmhurst College

Elmhurst

Elmhurst

$37,754

62.85
#14
North Park University-Chicago

Chicago

Chicago

$31,030

61.18
#15
Wheaton College - IL

Wheaton

Wheaton

$37,700

60.68
#16
Northern Illinois University

Dekalb

Dekalb

$14,610

60.45
#17
Trinity Christian College

Palos Heights

Palos Heights

$31,175

59.13
#18
Augustana College - IL

Rock Island

Rock Island

$43,610

58.67
#19
Benedictine University

Lisle

Lisle

$34,290

57.02
#20
Bradley University

Peoria

Peoria

$34,610

56.99
#21
Aurora University

Aurora

Aurora

$25,060

56.75
#22
Northeastern Illinois University

Chicago

Chicago

$11,462

56.51
#23
Governors State University

University Park

University Park

$10,070

53.90
#24
Saint Xavier University

Chicago

Chicago

$34,380

52.95
#25
Illinois Institute of Technology

Chicago

Chicago

$49,280

52.79