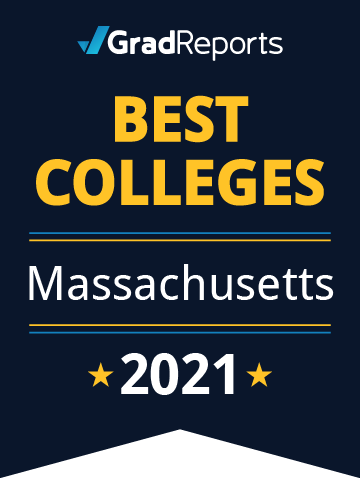 2021 Best Colleges in Massachusetts by Salary Score™
This list of the top 25 universities in Massachusetts highlights schools whose alumni earned higher salaries compared to alumni with the same major at other colleges. Salary Score is calculated by comparing median alumni earnings in the first year after graduation for each major at a college to data for the same major at other universities. We then compiled these program scores into an overall Salary Score to show how each university stacks up against other schools across the country. The top 25 schools in Massachusetts all scored higher than the median for colleges in the United States, with Harvard University and Massachusetts Institute of Technology ranking #1 and #2 in our list of the best colleges in the U.S. We also found that Massachusetts has the second-highest median Salary Score for bachelor's degrees in the country.
To be considered for our state rankings, schools must offer and provide data for at least 8 bachelor's programs. You can click on a school's name to view individual program scores. Read our methodology to learn more about how schools were ranked.
Our Salary Score™ is based on data reported by the U.S. Department of Education
Rank
School

Annual Tuition

Salary Score™
#1
Harvard University

Cambridge

Cambridge

$51,925

99.54
#2
Massachusetts Institute of Technology

Cambridge

Cambridge

$53,790

99.13
#3
Boston College

Chestnut Hill

Chestnut Hill

$57,910

96.56
#4
Amherst College

Amherst

Amherst

$58,640

95.90
#5
Bentley University

Waltham

Waltham

$51,830

95.76
#6
Northeastern University

Boston

Boston

$53,506

93.59
#7
College of the Holy Cross

Worcester

Worcester

$54,740

92.76
#8
Williams College

Williamstown

Williamstown

$57,280

91.23
#9
Stonehill College

Easton

Easton

$44,420

89.81
#10
Wellesley College

Wellesley

Wellesley

$56,052

88.99
#11
Wentworth Institute of Technology

Boston

Boston

$34,970

85.61
#12
Boston University

Boston

Boston

$55,892

84.92
#13
Tufts University

Medford

Medford

$58,578

84.23
#14
Fisher College

Boston

Boston

$31,992

81.25
#15
Brandeis University

Waltham

Waltham

$57,561

80.98
#16
Endicott College

Beverly

Beverly

$34,200

80.51
#17
Worcester Polytechnic Institute

Worcester

Worcester

$52,320

79.93
#18
Emmanuel College - MA

Boston

Boston

$41,448

77.55
#19
University of Massachusetts - Boston

Boston

Boston

$14,613

75.43
#20
University of Massachusetts - Amherst

Amherst

Amherst

$16,389

75.17
#21
Worcester State University

Worcester

Worcester

$10,161

73.47
#22
Suffolk University

Boston

Boston

$40,104

72.67
#23
Merrimack College

North Andover

North Andover

$43,340

72.21
#24
Assumption University

Worcester

Worcester

$42,316

72.17
#25
Emerson College

Boston

Boston

$49,432

70.26