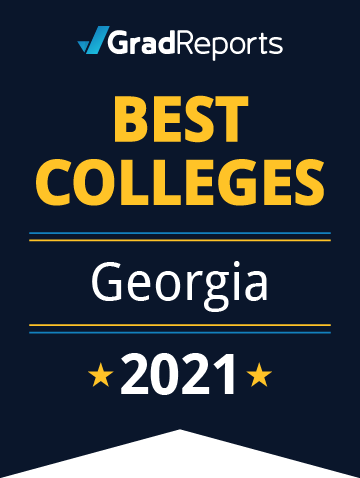 2021 Best Colleges in Georgia by Salary Score
Below are the best colleges in Georgia with the highest Salary Scores. A high score indicates that alumni from that college tend to earn higher salaries than alumni with the same major from other colleges. To calculate the Salary Score, we compared first-year earnings for alumni at a college to first-year earnings for alumni who earned the same bachelor's degree at other colleges. The list uses the combined Salary Scores for each individual program to indicate how alumni from all majors at that college performed. Each of the top five Georgia schools has a score above the national median of 50, with the top-ranked Georgia Institute of Technology earning an 86.35.
To be considered for our state rankings, schools must offer and provide data for at least 8 bachelor's programs. You can click on a school's name to view individual program scores. Read our methodology to learn more about how schools were ranked.
Salary Scores
based on data reported by the U.S. Department of Education
Rank
School

Annual Tuition

Salary Score

#1
Georgia Institute of Technology

Atlanta

Atlanta

$12,424

86.35
#2
Emory University

Atlanta

Atlanta

$51,306

67.33
#3
University of Georgia

Athens

Athens

$11,830

59.75
#4
Shorter University

Rome

Rome

$22,370

57.42
#5
Kennesaw State University

Kennesaw

Kennesaw

$6,347

53.74
#6
Georgia College & State University

Milledgeville

Milledgeville

$9,346

48.88
#7
Morehouse College

Atlanta

Atlanta

$27,576

48.68
#8
University of North Georgia

Dahlonega

Dahlonega

$4,692

48.29
#9
Mercer University

Macon

Macon

$36,894

46.06
#10
Spelman College

Atlanta

Atlanta

$29,064

44.63
#11
South University

Multiple Locations

Multiple Locations

$13,354 - $17,014

42.43
#12
Georgia Southern University

Statesboro

Statesboro

$6,356

42.11
#13
Georgia State University

Atlanta

Atlanta

$9,112

41.49
#14
Savannah College of Art and Design

Savannah

Savannah

$37,130

35.68
#15
Clayton State University

Morrow

Morrow

$5,419

35.05
#16
University of West Georgia

Carrollton

Carrollton

$6,288

34.53
#17
Augusta University

Augusta

Augusta

$8,604

31.42
#18
Berry College

Mount Berry

Mount Berry

$36,556

30.99
#19
Dalton State College

Dalton

Dalton

$4,246

30.36
#20
Valdosta State University

Valdosta

Valdosta

$6,410

30.15
#21
Columbus State University

Columbus

Columbus

$6,134

27.56
#22
Middle Georgia State University

Macon

Macon

$3,924

26.08
#23
Georgia Southwestern State University

Americus

Americus

$5,381

24.32
#24
College of Coastal Georgia

Brunswick

Brunswick

$4,696

24.01
#25
Point University

Multiple Locations

Multiple Locations

$20,600

20.05