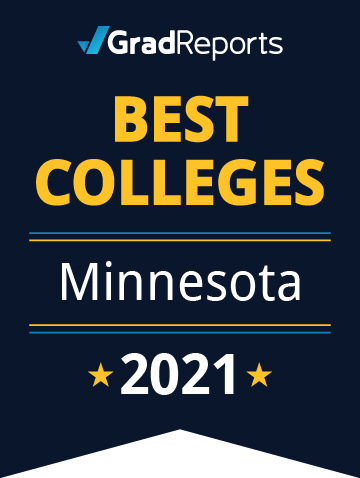 2021 Best Colleges in Minnesota by Salary Score
This list of the top 25 schools in Minnesota is ranked by Salary Score and highlights colleges whose alumni tend to earn higher salaries compared to alumni from the same majors at other colleges. The Salary Score is calculated by comparing median alumni salaries for each program to salary data for the same programs across all universities. We then compiled these program scores into an overall Salary Score for each college to indicate how well alumni as a whole fare in their chosen fields of study. Even though the state has a low cost of living compared to the national average, Minnesota graduates tended to earn higher-than-average salaries overall. Minnesota is #5 in the top states for bachelor's degree salaries, and all of the top 25 schools have a higher Salary Score than the median for U.S. colleges and universities.
To be considered for our state rankings, schools must offer and provide data for at least 8 bachelor's programs. You can click on a school's name to view individual program scores. Read our methodology to learn more about how schools were ranked.
Salary Scores
based on data reported by the U.S. Department of Education
Rank
School

Annual Tuition

Salary Score

#1
University of Minnesota-Crookston

Crookston

Crookston

$12,116

82.95
#2
Concordia University - Saint Paul

Saint Paul

Saint Paul

$22,800

79.36
#3
University of St. Thomas

Saint Paul

Saint Paul

$45,780

77.64
#4
Metropolitan State University

Saint Paul

Saint Paul

$8,114

75.24
#5
Saint John's University - MN

Collegeville

Collegeville

$46,546

75.02
#6
College of Saint Benedict

Saint Joseph

Saint Joseph

$46,460

74.57
#7
University of Minnesota-Twin Cities

Minneapolis

Minneapolis

$15,027

72.17
#8
St. Catherine University

Saint Paul

Saint Paul

$40,984

71.43
#9
Minnesota State University at Mankato

Mankato

Mankato

$8,438

70.85
#10
Saint Mary's University of Minnesota

Winona

Winona

$36,670

70.64
#11
University of Northwestern - St. Paul

Saint Paul

Saint Paul

$32,210

70.44
#12
Bethel University - MN

Saint Paul

Saint Paul

$38,460

68.62
#13
Winona State University

Winona

Winona

$9,666

67.15
#14
Saint Cloud State University

St. Cloud

St. Cloud

$8,656

66.97
#15
North Central University

Minneapolis

Minneapolis

$25,090

65.43
#16
Gustavus Adolphus College

Saint Peter

Saint Peter

$47,040

64.24
#17
Minnesota State University - Moorhead

Moorhead

Moorhead

$8,954

62.78
#18
Augsburg University

Minneapolis

Minneapolis

$39,955

62.51
#19
Bemidji State University

Bemidji

Bemidji

$8,940

61.33
#20
Hamline University

Saint Paul

Saint Paul

$42,774

59.72
#21
University of Minnesota-Duluth

Duluth

Duluth

$13,680

59.10
#22
The College of Saint Scholastica

Duluth

Duluth

$38,282

55.01
#23
Concordia College at Moorhead

Moorhead

Moorhead

$41,566

54.78
#24
Rasmussen University Online

Multiple Locations

Multiple Locations

Not Provided

53.70
#25
Southwest Minnesota State University

Marshall

Marshall

$8,874

52.91