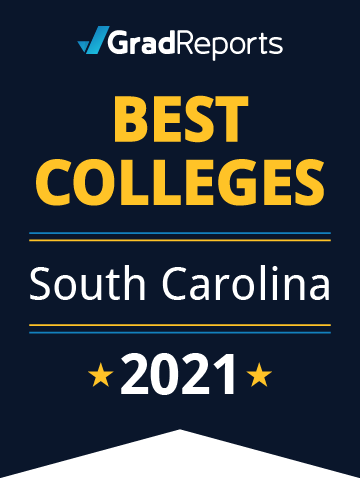 2021 Best Colleges in South Carolina by Salary Score
We calculated a Salary Score for colleges in South Carolina to show how schools stack up in terms of alumni salary. Salary Score is an indicator of whether bachelor's degrees from a given college may lead to better financial outcomes compared to the same degrees at other colleges. We calculated this by comparing median alumni earnings in the first year after graduation for a major at a given college to alumni earnings for the same major across all colleges. Scores by major were then combined to provide an overall bachelor's degree Salary Score. The city of Charleston is home to three colleges on South Carolina's Best Colleges list, and Citadel Military College of South Carolina tops the list, with a Salary Score of 65.17.

To be considered for our state rankings, schools must offer and provide data for at least 8 bachelor's programs. This list includes all eligible schools in South Carolina. You can click on a school's name to view individual program scores. Read our methodology to learn more about how schools were ranked.
Salary Scores
based on data reported by the U.S. Department of Education
Rank
School

Annual Tuition

Salary Score

#1
Citadel Military College of South Carolina

Charleston

Charleston

$12,620

65.17
#2
Clemson University

Clemson

Clemson

$15,558

50.68
#3
University of South Carolina - Columbia

Columbia

Columbia

$12,688

49.76
#4
Columbia College - SC

Columbia

Columbia

$19,890

43.92
#5
Limestone University

Gaffney

Gaffney

$26,300

43.13
#6
College of Charleston

Charleston

Charleston

$12,939

41.61
#7
Furman University

Greenville

Greenville

$50,844

37.33
#8
University of South Carolina-Aiken

Aiken

Aiken

$10,760

32.17
#9
Wofford College

Spartanburg

Spartanburg

$45,710

31.45
#10
Newberry College

Newberry

Newberry

$27,400

31.24
#11
University of South Carolina-Upstate

Spartanburg

Spartanburg

$11,558

29.32
#12
Charleston Southern University

Charleston

Charleston

$26,000

28.30
#13
Anderson University - SC

Anderson

Anderson

$29,230

27.96
#14
Winthrop University

Rock Hill

Rock Hill

$15,806

25.46
#15
Bob Jones University

Greenville

Greenville

$19,100

23.30
#16
Coastal Carolina University

Conway

Conway

$11,640

22.60
#17
University of South Carolina-Beaufort

Bluffton

Bluffton

$10,730

22.04
#18
North Greenville University

Tigerville

Tigerville

$21,120

20.36
#19
Lander University

Greenwood

Greenwood

$11,700

17.41
#20
Francis Marion University

Florence

Florence

$11,160

17.28
#21
Coker College

Hartsville

Hartsville

$30,196

14.89
#22
Claflin University

Orangeburg

Orangeburg

$17,192

12.24
#23
South Carolina State University

Orangeburg

Orangeburg

$11,060

5.55