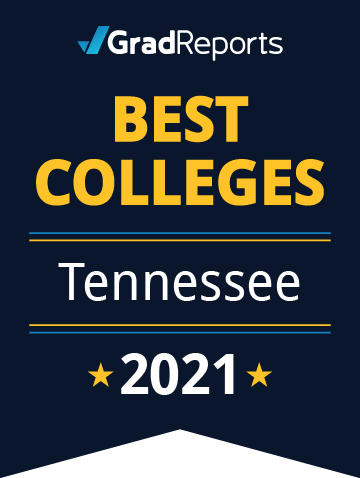 2021 Best Colleges in Tennessee by Salary Score
We calculated a Salary Score for each college in Tennessee to compare the first-year earnings of alumni from each college to earnings for alumni with the same major at other colleges. The Salary Scores on this list represent the combined scores for all the bachelor's degree programs at a college and indicate how alumni from all majors at a specific school performed. Vanderbilt University, for example, is ranked first in Tennessee because it has a Salary Score of 90.46. It also ranks #36 on our 2021 list of Best Colleges in the U.S.
To be considered for our state rankings, schools must offer and provide data for at least 8 bachelor's programs. You can click on a school's name to view individual program scores. Read our methodology to learn more about how schools were ranked.
Salary Scores
based on data reported by the U.S. Department of Education
Rank
School

Annual Tuition

Salary Score

#1
Vanderbilt University

Nashville

Nashville

$52,070

90.46
#2
Trevecca Nazarene University

Nashville

Nashville

$26,098

56.71
#3
Rhodes College

Memphis

Memphis

$49,198

49.00
#4
Belmont University

Nashville

Nashville

$35,650

46.57
#5
Sewanee-The University of the South

Sewanee

Sewanee

$46,472

46.45
#6
Middle Tennessee State University

Murfreesboro

Murfreesboro

$9,070

42.43
#7
The University of Tennessee - Knoxville

Knoxville

Knoxville

$13,264

39.09
#8
Tusculum University

Greeneville

Greeneville

$24,860

38.74
#9
Lipscomb University

Nashville

Nashville

$33,424

37.41
#10
Freed-Hardeman University

Henderson

Henderson

$22,950

37.18
#11
Maryville College

Maryville

Maryville

$35,578

34.79
#12
Union University

Jackson

Jackson

$33,750

34.27
#13
Lee University

Cleveland

Cleveland

$18,770

34.13
#14
The University of Tennessee - Chattanooga

Chattanooga

Chattanooga

$9,656

33.40
#15
Southern Adventist University

Collegedale

Collegedale

$22,520

32.38
#16
Austin Peay State University

Clarksville

Clarksville

$8,303

31.28
#17
Tennessee State University

Nashville

Nashville

$9,012

30.68
#18
University of Memphis

Memphis

Memphis

$9,912

29.74
#19
Tennessee Tech University

Cookeville

Cookeville

$8,934

29.22
#20
Carson-Newman University

Jefferson City

Jefferson City

$28,900

28.13
#21
The University of Tennessee - Martin

Martin

Martin

$9,748

25.11
#22
East Tennessee State University

Johnson City

Johnson City

$9,259

19.27
#23
King University

Bristol

Bristol

$30,616

18.78