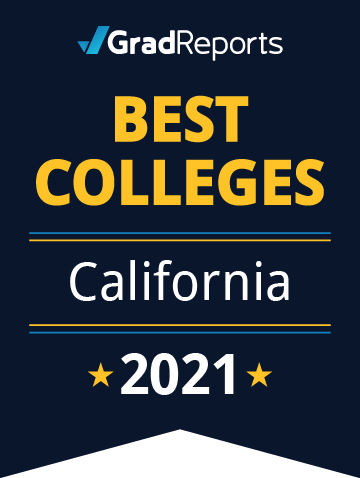 2021 Best Colleges in California by Salary Score
We ranked the top 25 colleges in California based on their bachelor's degree Salary Scores. We compared the median alumni earnings in the first year after graduation for each major at a college to alumni earnings for the same major across all colleges. Program scores are then combined to provide an overall score at the bachelor's level for each college. A higher score indicates that as a whole, graduates at that school earn more than graduates at other colleges. Four of the top five ranked schools in California are in the San Francisco Bay Area, and two of these (Stanford University and Dominican University of California) also rank in the top 10 of our Best Colleges in the U.S. list. All 25 schools on the list are in the top 40 percent of schools nationwide.
To be considered for our state rankings, schools must offer and provide data for at least 8 bachelor's programs. You can click on a school's name to view individual program scores. Read our methodology to learn more about how schools were ranked.
Salary Scores
based on data reported by the U.S. Department of Education
Rank
School

Annual Tuition

Salary Score

#1
Santa Clara University

Santa Clara

Santa Clara

$51,711

98.23
#2
Stanford University

Stanford

Stanford

$51,354

97.52
#3
Dominican University of California

San Rafael

San Rafael

$45,850

97.21
#4
University of California - Berkeley

Berkeley

Berkeley

$14,184

93.80
#5
University of Southern California

Los Angeles

Los Angeles

$56,225

92.85
#6
University of San Francisco

San Francisco

San Francisco

$48,066

92.74
#7
California Polytechnic State University-San Luis Obispo

San Luis Obispo

San Luis Obispo

$9,816

90.16
#8
California State University-East Bay

Hayward

Hayward

$6,983

88.36
#9
Pepperdine University

Malibu

Malibu

$53,932

88.00
#10
National University

La Jolla

La Jolla

$13,320

87.96
#11
San Jose State University

San Jose

San Jose

$7,796

87.70
#12
Saint Mary's College of California

Moraga

Moraga

$47,280

85.77
#13
University of San Diego

San Diego

San Diego

$49,358

83.62
#14
Mount Saint Mary's University - CA

Los Angeles

Los Angeles

$41,170

81.70
#15
Chapman University

Orange

Orange

$52,724

78.93
#16
Sonoma State University

Rohnert Park

Rohnert Park

$7,798

75.93
#17
San Francisco State University

San Francisco

San Francisco

$7,260

75.27
#18
Azusa Pacific University

Azusa

Azusa

$38,880

71.40
#19
Loyola Marymount University

Los Angeles

Los Angeles

$48,522

70.71
#20
Concordia University-Irvine

Irvine

Irvine

$35,400

68.97
#21
California State University-Sacramento

Sacramento

Sacramento

$7,310

68.08
#22
University of Redlands

Redlands

Redlands

$49,504

67.62
#23
University of the Pacific

Stockton

Stockton

$48,164

66.20
#24
California Lutheran University Thousand Oaks

(and 2 others)

Thousand Oaks

(and 2 others)

$42,692

64.84
#25
University of California-Santa Barbara

Santa Barbara

Santa Barbara

$14,391

64.17