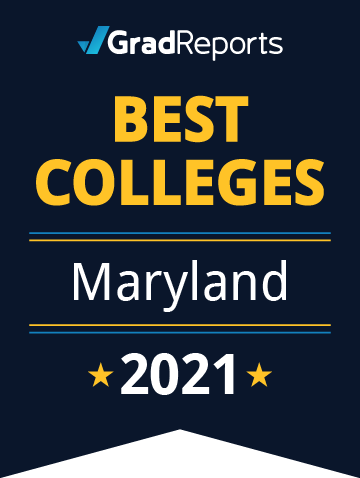 2021 Best Colleges in Maryland by Salary Score
These are the best schools in Maryland, ranked by Salary Score. This score shows how each college stacks up against colleges across the country in terms of alumni salaries by major. To determine a school's Salary Score, we compared median alumni earnings from the first year after graduation for each program to data from the same programs at other universities. We then compiled an overall Salary Score for bachelor's degrees at the university, which indicates whether or not alumni tend to be higher-paid compared to others with the same field of study. More than half of eligible Maryland universities had higher Salary Scores than the median for U.S. colleges and universities. The University of Maryland College Park ranked 1st for Salary Score out of all Maryland-based schools.
To be considered for our state rankings, schools must offer and provide data for at least 8 bachelor's programs. This list includes all eligible schools in Maryland. You can click on a school's name to view individual program scores. Read our methodology to learn more about how schools were ranked.
Salary Scores
based on data reported by the U.S. Department of Education
Rank
School

Annual Tuition

Salary Score

#1
University of Maryland - College Park

College Park

College Park

$10,595

86.24
#2
Loyola University Maryland

Baltimore

Baltimore

$48,920

77.82
#3
Mount St. Mary's University - MD

Emmitsburg

Emmitsburg

$41,350

77.61
#4
Bowie State University

Bowie

Bowie

$8,234

77.49
#5
Johns Hopkins University

Baltimore

Baltimore

$53,740

71.87
#6
Towson University

Towson

Towson

$9,940

70.92
#7
Coppin State University

Baltimore

Baltimore

$8,873

60.87
#8
Salisbury University

Salisbury

Salisbury

$9,824

60.57
#9
McDaniel College

Westminster

Westminster

$43,260

59.99
#10
Stevenson University

Stevenson

Stevenson

$36,242

59.44
#11
University of Maryland, Baltimore County

Baltimore

Baltimore

$11,778

57.18
#12
St Mary's College of Maryland

St. Mary's City

St. Mary's City

$14,806

56.67
#13
Hood College

Frederick

Frederick

$39,492

51.16
#14
Washington College

Chestertown

Chestertown

$46,978

51.04
#15
University of Baltimore

Baltimore

Baltimore

$8,958

48.64
#16
Frostburg State University

Frostburg

Frostburg

$9,172

44.24
#17
Morgan State University

Baltimore

Baltimore

$7,900

35.31
#18
Goucher College

Baltimore

Baltimore

$44,300

34.53
#19
University of Maryland Eastern Shore

Princess Anne

Princess Anne

$8,302

31.38