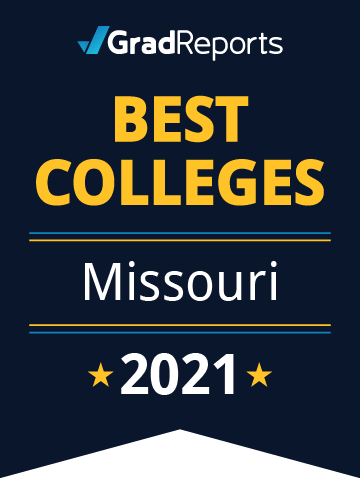 2021 Best Colleges in Missouri by Salary Score
We've ranked the top 25 universities in Missouri based on Salary Score. Students can use this list to see how colleges stack up in terms of alumni salary by major for a bachelor's degree. We determined Salary Score by comparing median alumni salaries for each program to data on the same programs from other universities. We then compiled these program scores into an overall Salary Score for each school. A high Salary Score indicates that a school produces alumni who tend to earn more than graduates with the same major across all schools. It's helpful to keep in mind that the cost of living differs in each state, so salaries might vary to reflect this. For example, Missouri is the sixth most affordable state by cost of living, so alumni may have lower salaries in line with lower living expenses. Even with a lower cost of living, however, the top 5 schools in Missouri all have higher Salary Scores than the median for colleges and universities in the U.S. Missouri's top school, Washington University in St. Louis, ranks #39 for best universities in the country by bachelor's degree Salary Score.
To be considered for our state rankings, schools must offer and provide data for at least 8 bachelor's programs. You can click on a school's name to view individual program scores. Read our methodology to learn more about how schools were ranked.
Salary Scores
based on data reported by the U.S. Department of Education
Rank
School

Annual Tuition

Salary Score

#1
Washington University in St. Louis

St. Louis

St. Louis

$55,292

90.06
#2
Park University

Parkville

Parkville

$11,190

64.06
#3
Missouri University of Science and Technology

Rolla

Rolla

$9,936

62.48
#4
University of Missouri

Columbia

Columbia

$10,477

61.94
#5
Columbia College

Columbia

Columbia

$23,498

56.67
#6
Maryville University

St. Louis

St. Louis

$28,470

50.20
#7
University of Missouri - Kansas City

Kansas City

Kansas City

$9,915

48.68
#8
Lindenwood University

Saint Charles

Saint Charles

$18,100

47.37
#9
Saint Louis University - Main Campus

St. Louis

St. Louis

$45,424

47.13
#10
Fontbonne University St. Louis

(and 1 other)

St. Louis

(and 1 other)

$27,260

46.65
#11
University of Missouri at Saint Louis

St. Louis

St. Louis

$10,170

46.49
#12
Webster University

St. Louis

St. Louis

$28,700

45.78
#13
William Woods University

Fulton

Fulton

$24,830

43.33
#14
Truman State University

Kirksville

Kirksville

$8,120

43.17
#15
Rockhurst University

Kansas City

Kansas City

$38,760

41.96
#16
Northwest Missouri State University

Maryville

Maryville

$8,238

41.53
#17
Missouri Southern State University

Joplin

Joplin

$6,803

37.71
#18
University of Central Missouri

Warrensburg

Warrensburg

$7,969

36.09
#19
Avila University

Kansas City

Kansas City

$20,500

33.83
#20
Missouri Western State University

St. Joseph

St. Joseph

$8,225

32.82
#21
Southeast Missouri State University

Cape Girardeau

Cape Girardeau

$7,800

31.81
#22
Drury University

Springfield

Springfield

$29,665

30.99
#23
Culver-Stockton College

Canton

Canton

$27,205

26.11
#24
Missouri Baptist University

St. Louis

St. Louis

$28,220

25.43
#25
Missouri State University

Springfield

Springfield

$7,588

25.17