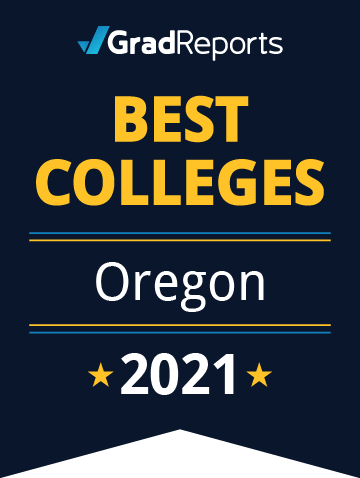 2021 Best Colleges in Oregon by Salary Score
We ranked universities in Oregon by Salary Score to show how each school compares in terms of alumni salary by major. The Salary Score acts as an indicator of whether degrees from a given college tend to lead to better financial outcomes for alumni. To calculate Salary Score, we took median alumni salaries for each bachelor's program at a school and compared them to salary data for the same programs at other universities. A high Salary Score indicates that alumni from a given college tend to earn higher salaries than alumni from other colleges. Linfield University, the Oregon Institute of Technology, and George Fox University all scored in the top 25% of U.S. colleges and universities.
To be considered for our state rankings, schools must offer and provide data for at least 8 bachelor's programs. This list includes all eligible schools in Oregon. You can click on a school's name to view individual program scores. Read our methodology to learn more about how schools were ranked.
Salary Scores
based on data reported by the U.S. Department of Education
Rank
School

Annual Tuition

Salary Score

#1
Linfield University

McMinnville

McMinnville

$44,132

86.63
#2
Oregon Institute of Technology

Klamath Falls

Klamath Falls

$10,485

79.53
#3
George Fox University

Newberg

Newberg

$37,280

76.33
#4
University of Portland

Portland

Portland

$47,818

64.65
#5
Pacific University

Forest Grove

Forest Grove

$46,402

56.00
#6
Oregon State University

Corvallis

Corvallis

$11,715

54.54
#7
Portland State University

Portland

Portland

$9,579

49.48
#8
University of Oregon

Eugene

Eugene

$12,720

46.97
#9
Western Oregon University

Monmouth

Monmouth

$9,768

44.43
#10
Corban University

Salem

Salem

$33,040

42.90
#11
Eastern Oregon University

La Grande

La Grande

$9,084

41.33
#12
Lewis & Clark College

Portland

Portland

$52,780

32.56
#13
Southern Oregon University

Ashland

Ashland

$10,479

32.13
#14
Willamette University

Salem

Salem

$52,290

31.49
#15
Reed College

Portland

Portland

$58,440

26.66
2021 Best Colleges in Oregon Highlights
#1

The bachelor's field with the highest Salary Score at Linfield University is registered nursing, nursing administration, nursing research, and clinical nursing, which scores a 94. Other notable fields with high Salary Scores include accounting and related services (87) and teacher education and professional development, specific levels and methods (85). Alumni of the nursing programs also report the highest annual median salary, at $82,960. Health and physical education/fitness program alumni report a median salary of $32,930 in the year after graduation, earning this field a Salary Score of 72.
School Overview
Linfield University is a small, private, not-for-profit school located in McMinnville, OR, a mid-sized town about an hour south of Portland. Seventy percent of students receive need-based financial aid, and there are several scholarship opportunities, including awards for first-generation college students, those who demonstrate academic or musical achievement, and legacy students. For those who wish to study abroad at one of Linfield's twenty-five international program locations, round-trip airfare will be paid for by the school.
#2
Health services-related programs at the Oregon Institute of Technology have high Salary Scores, indicating that program graduates typically earn more than graduates of similar programs at other schools. The health and medical administrative services program scores a 92, and the dental support services and allied professions program scores an 80. The health program with the highest median salary is allied health diagnostic, intervention, and treatment professions, which has a Salary Score of 89 and reports a median alumni salary of $73,050. The electrical, electronics, and communications engineering program has the highest median salary of all the undergraduate programs, at $77,000.
School Overview
The Oregon Institute of Technology is a medium-sized public university located in the small town of Klamath Falls, not far from the California border. Students at the school can participate in research as part of their undergraduate work, and the college has partnerships with several organizations that allow students to get real-world training. For instance, the university is the host school for the Oregon Manufacturing Innovation Center Research and Development, an organization that brings together various universities and manufacturing companies both nationally and internationally, allowing students and faculty to work together on research projects that directly affect companies such as Daimler and Boeing.
#3

The three bachelor's programs with the highest Salary Score at George Fox University are management information systems and services (100), behavioral sciences (99), and business administration - management and operations (96). In addition to having the highest Salary Score, graduates of the management information systems and services program report the highest median salary of all the undergraduate programs, at $84,650 in the year after graduation.
School Overview
George Fox University is a private, not-for-profit university located in Newberg, Oregon, a suburban town about forty minutes outside of Portland. It is a Christian university, and all of the faculty and staff that work there identify as Christian. Students are required to complete 15 Chapel Credits per semester, which involves attending church services or other spiritual activities. The average financial aid package for first-year students is over $32,000 a year, and George Fox offers a variety of merit scholarships based on high school GPA. They also have a Scholarship Summit program, where future students can earn up to $3,000 in scholarships by completing different activities, like attending a community event or meeting with an admissions counselor.