Who's Hiring Graduates of the Top Colleges in California?
A look at the largest employers, industries, and occupations behind the best schools for salary in California
Last Updated: October 13, 2021

Written by: Jennifer King Logan

Research and Analysis by: Taylor Nichols
Key Insights:
Close to one-third of graduates from top California schools now work for a Big Five tech company
Software engineering is the most popular job for alumni of these schools, followed by business and management analyst
Nearly 20% of graduates work in professional, technical, and scientific services, with Ernst & Young as the largest single employer for alumni in the industry
Four of the top 10 schools are heavily focused on preparing graduates for careers in healthcare
Across California, prospective and current students alike want to know which organizations are hiring college graduates and for what roles. We examined employment data for the top 10 colleges in California by Salary Score to find out where California's highest earners for their field of study end up after graduation.
Our analysis reflects the current employment landscape for Calfornians — 75% of the 91,332 alumni included in our study still live in-state, and our research partner, Burning Glass Technologies, collects data monthly to keep pace with an ever-changing labor market.
This research study includes broader takeaways from the top 10 colleges overall, as well as employment data for each individual school.
---
Methodology
Our list is composed of the top 10 colleges and universities in California by Salary Score. To calculate our Salary Scores, we used federal earnings data provided by the U.S. Department of Education through College Scorecard. Our guide to Salary Scores provides more information on our calculations, methodology, and data sources.
Our employment data was sourced from Burning Glass Technologies, which parses thousands of resumes, social media profiles, and job listings to offer insights on the current labor market. Data pertains to the graduating classes of 2015 through 2020, and excludes alumni who found work at their universities upon graduating. Additional data was obtained on LinkedIn. Data collection occurred in August and September 2021.
---
Employment outcomes for alumni of the top 10 colleges in california by salary score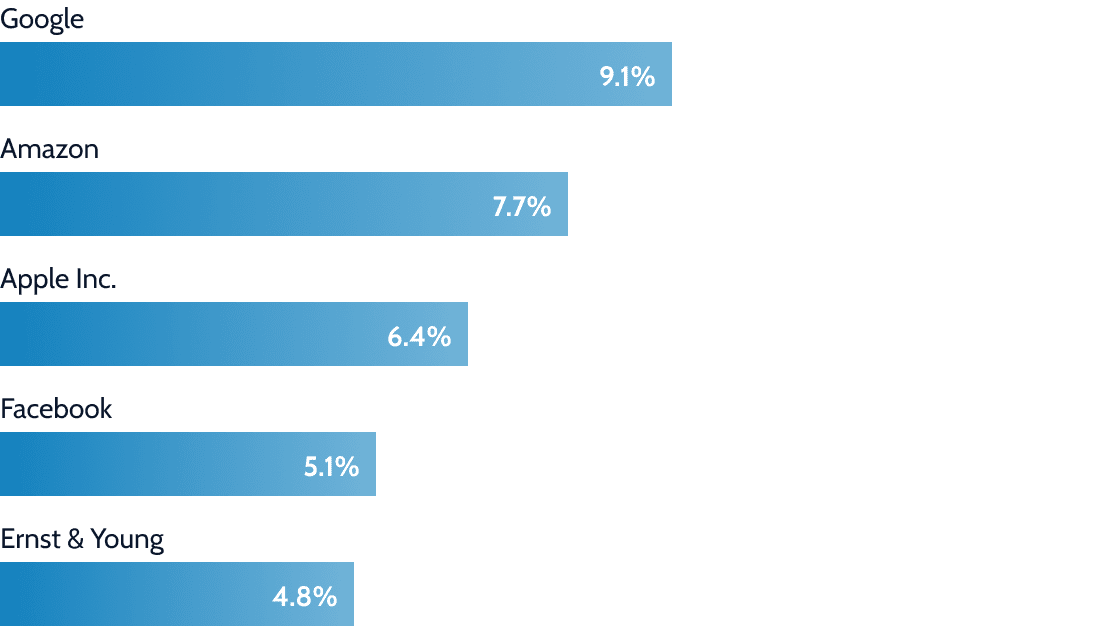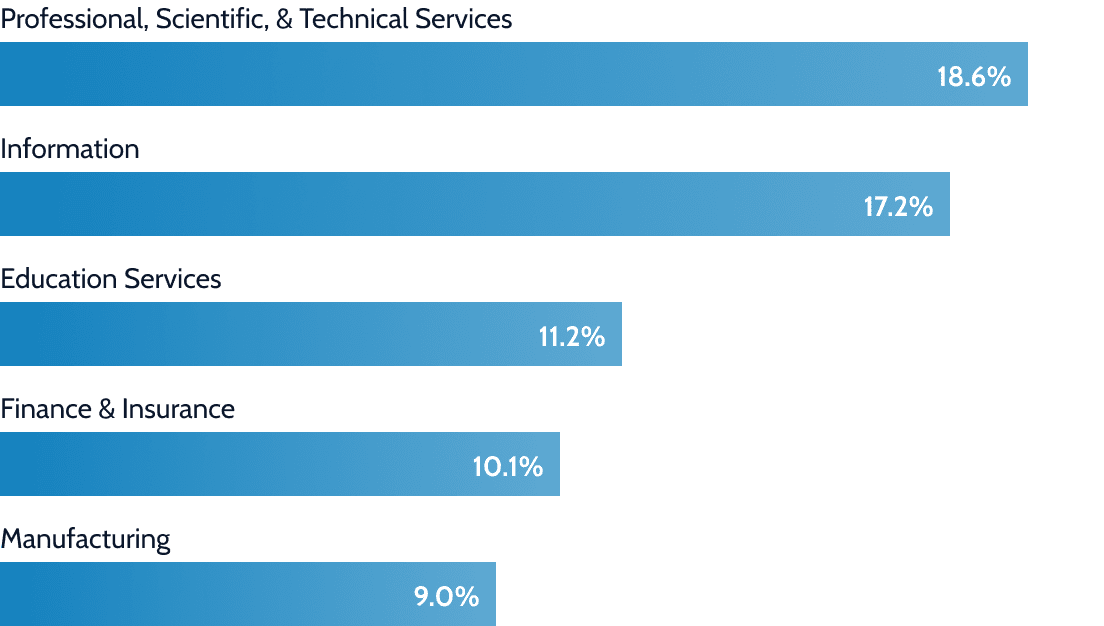 California is home to thousands of tech companies, including some of the biggest names in the industry. Thus, it's not surprising that nearly one-third (32%) of graduates from the top 10 schools in the state are employed by one of the Big Five: Google, Facebook, Amazon, Apple, and Microsoft.
Approximately 8% of graduates work as software engineers, making it the predominant occupation in this group by far. The information industry is the second largest sector for these graduates, hiring 17% of alumni.
Professional, scientific, and technical services is the most popular industry for alumni of these schools, with nearly 20% finding jobs in the sector. Roughly 3% of alumni hold jobs as business or management analysts, while 2% hold research positions. Ernst and Young is the fifth most common employer, hiring 5% of graduates overall.
The finance and insurance industry employs 10% of graduates. Alumni found jobs with prominent employers in the industry, including Wells Fargo, JP Morgan Chase, Goldman Sachs, Morgan Stanley, and Bank of America.
Just over 10% of graduates work in education, including colleges and universities, professional schools, and the K-12 system. Nine percent of alumni work for manufacturing companies.
Alumni Employment Outcomes by College
We analyzed the top employers, industries, and occupations for graduates of each college to gain a deeper understanding of the educational and career pathways these students took. Each school's GradReports profile offers more detailed information about programs, median debt, median salaries, and Salary Score breakdowns.