Where do New York Alumni Work? Finance Draws 21% of Grads
New data highlights the industries, employers, and jobs behind New York's top colleges for alumni salary
Last Updated: November 18, 2021

Written by: Usmann Farooqui

Research and Analysis by: Taylor Nichols
Key Takeaways:
Graduates of top New York colleges are heavily concentrated in finance and business, with 21% working in the finance and insurance sector
Google is the largest single employer, hiring over 6% of alumni
Nearly 20% of graduates work in professional, technical, and scientific services, with Ernst & Young as the largest single employer for alumni in the industry
Adelphi goes against the trend of other NY colleges with over 36% of grads working in healthcare
New York features a wide variety of strong colleges for alumni salary, but earnings aren't the only factor to take into account. Many students also want to know what job opportunities a degree might offer when choosing a school.
To dig deeper into career outcomes for New York graduates, we looked at the most popular industries, job titles, and employers behind the top 10 colleges in New York by Salary Score.
Our list below includes schools whose alumni command high salaries in their fields of study when compared to colleges nationally. We used employment data from Burning Glass Technologies for 60,988 graduates of these colleges to find out where they work and what they do after finishing their degrees.
---
Methodology
Our list of schools includes the top New York colleges by Salary Score, which highlights which colleges produce top earning alumni in their fields. We calculated Salary Score by comparing median annual salaries for each undergraduate major at New York colleges to the median annual salaries for the same major at universities nationwide. Our Salary Score guide gives a full overview of this process
Our employment data was sourced from Burning Glass Technologies, which parses thousands of resumes, social media profiles, and job listings to offer insights on the current labor market. Data pertains to the graduating classes of 2015 through 2020, and excludes alumni who found work at their universities upon graduating. Additional data was obtained on LinkedIn. Data collection occurred in August and September 2021.
---
Most Popular Industries, Employers, and Occupations for the Top Colleges in New York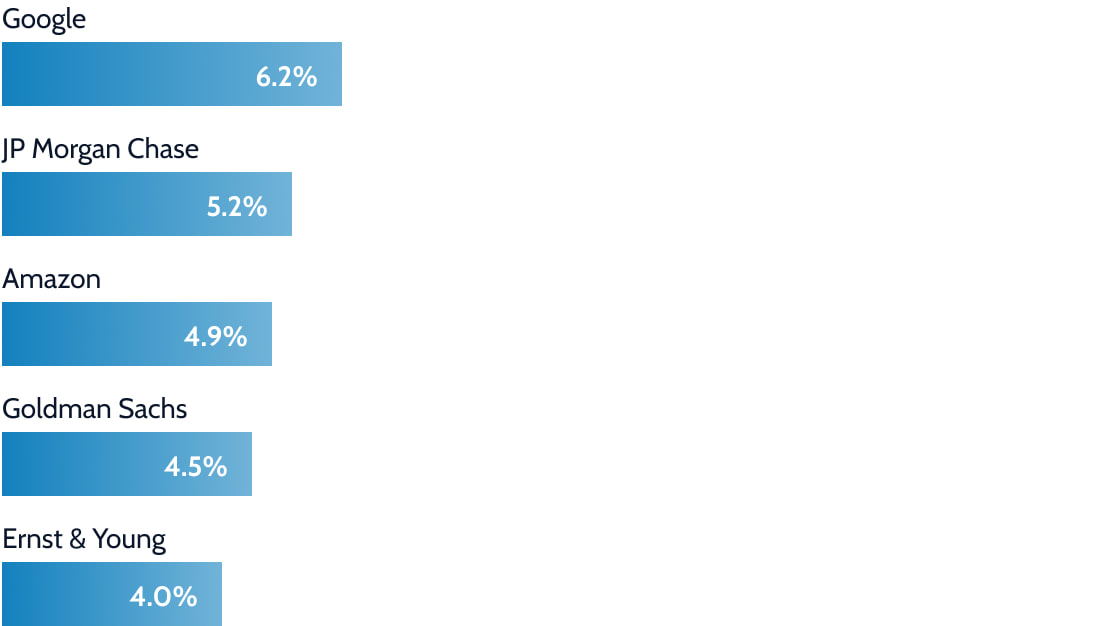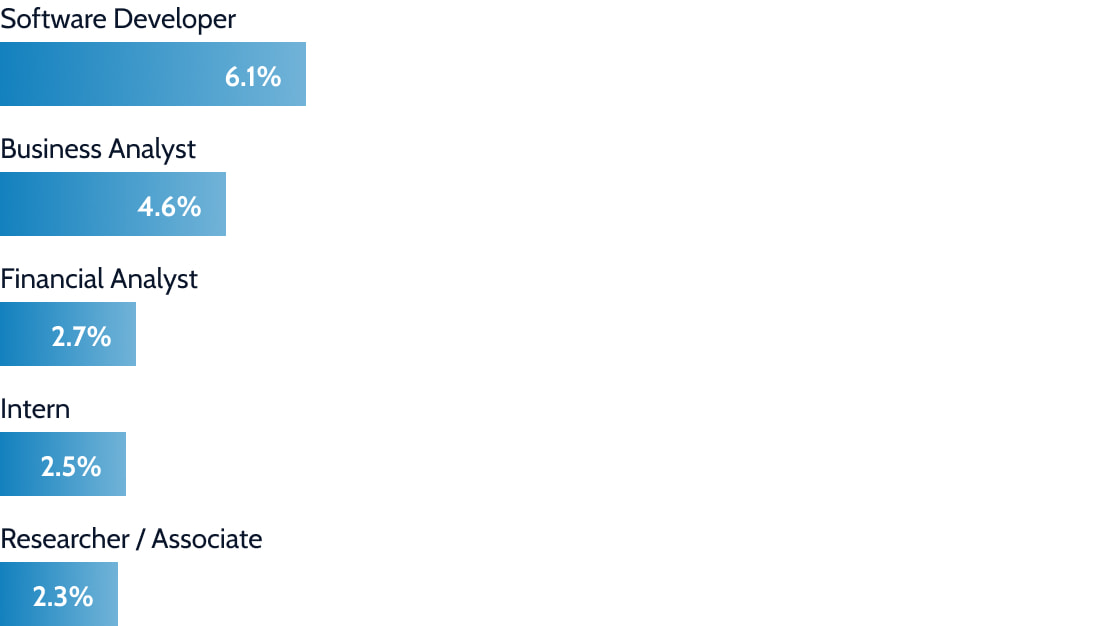 The top 10 colleges for Salary Score in New York are all private universities. Unsurprisingly, Ivy League schools Columbia University and Cornell University both made the list.
Given that New York City is the banking capital of the world, it's no surprise that financial and insurance services was the most popular industry for these alumni, with over a fifth finding employment in this sector. Nearly 19% work in professional, scientific, and technical services, an industry that includes consulting, legal aid, accounting, and other services a company might outsource.
GradReports' findings are consistent with wider economic trends in New York, where finance, healthcare, and professional and business services are among the main industries driving the state's economy.
Although finance is the top sector, Google is the largest employer for graduates, accounting for 6.2% of alumni. At 5.2%, financial group JP Morgan Chase is a close second. In general, employers for graduates of our ranked list are a mix of technology, financial, and consulting firms. Some notable companies in these sectors include Amazon, Goldman Sachs, and Ernst & Young.
Around 6% of alumni found jobs as software developers, making this the most common occupation for graduates.
Employment Outcomes by College